Video Killed The Love of Learning
Technology Problems During a Pandemic
2020 is the year of dumpster fires and distance learning is no exception. For 25 years, technology and education has always been messy. Covid19 has amplified the problems: internet access, device management, Chromebooks, the endless tools and the work of parents as educators. This is garbageville.
I'm by no means an expert in education and technology. Nor am I a stranger:
I was in high school as we moved away from the old reliable Apple IIe into Windows NT
I worked in Curriculum and Instruction at UIUC with respect to technology and access
I worked for a school district as a web developer.
I'm a parent of a first and fifth grader.
We happen to be privileged to be at a decent school, have generally bright kids and have money set aside for our kids school related incidentals. So while some of this is a massive inconvenience on a good day and horrifyingly mentally unhealthy on other days, it's a lot worse for other people. The other advantage we have is that I'm fairly tech savvy. I was the kid who programmed my parents VCRs, now I fiddle with routers, Chromebook settings and Alexa routines.
Also, this isn't a criticism on the school or teachers who work with my kids. They are making the best of a crappy situation, and chances are our problems are magnified because our kids are young and neuroatypical.
Access
When the pandemic hit did you thank your lucky stars that the internet was working? I bought a new router, it works most of the time, but we never really spent the time or money to wire our house properly. I also thought it might be overkill. It's not. Good reliable internet is necessary for anything to work with distance learning. Unfortunately it's $50/month minimum to get reasonable speeds. While for many of us in the Bay Area, it's unheard of to not have (broadband) Internet, it's by no means a requirement. Especially with phones being more ubiquitous. So for some this is a new expense. Getting the networking to work right, is actually difficult, unless you don't have walls or you don't have to obey the laws of physics.
I'm genuinely making plans to have my house wired and serviced with Unifi access points. It'll have to wait after our other major house project, backup power, because we live in a place with use-based and weather based planned power outages. I don't expect every parent to be as tech savvy as me. Let's hope a new router can also fit into this budget.
Finally, there's devices. Our school uses Chromebooks. At the end of the school year, we asked if we could borrow one for our fourth grader. Thinking it'd be easier for him to do his work. We ended up getting our own (more details below) even though the school setup a program to loan out Chromebooks. This fall we were told our first grader would probably need one for his blended Kindergarten/First Grade class. These laptops suck. If you can afford your own laptop or device, your kid will have better access to education.
Granted, I'm only talking about technological access to education. I'm not even going to talk about access in terms of IDEA. That also is a barrier, and to be completely honest, is way bigger than the technical hurdles of distance learning.
Chromebooks
This spring, after shelter in place, I saw a great deal: A 15 inch touch screen Chromebook for $300. I pounced on it. I was a little reluctant to spend that much for what might only be a two or three week shelter in place. 5 months later, however, it was worth it. We had an iPad that could have worked, but a full keyboard and a large screen was great.
Pricing
The prices for these devices have unfortunately, but understandably, shot up. They are often out of stock (along with plastic pools, trampolines, etc). This year my first grader also needs a Chromebook and we borrowed one from the schools. It's inadequate. So a "decent" Chromebook (large touchscreen, good reviews) is about $500-700. At that price, there's other options: an iPad Pro or perhaps upgrading my wife's laptop and passing her old one down.
Chromebook devices promise so much. My son's $300 device really is a bargain for what it allows, even if it's not accessible for many people. Unfortunately that was a good deal that's gone away. The devices are truly all over the place in terms of capabilities and price. $300-1500 is the range and what schools provide tend to be on the low end. Some of this is out of necessity. Sometimes the cheap device is the durable one. Less frills means less things to break.
Often it means: tiny non-touchscreen and bad audio. The tiny screen is frustrating, because it's usually not a crisp display. It's hard to glance over at your son to see if he needs help. Also there's just not enough room for everything. The lack of touch screen means things that could be quick (maximize a window, switch from speaker view to gallery view) take a long time with moving the mouse. Furthermore, younger kids are familiar with touch devices. Bad audio is the worst problem. It's truly a problem for distance learning. Quiet speakers or a device that's quiet even after routing through headphones means you need quiet surroundings in order to work. In a house of four, that's not guaranteed. A bad microphone now means that the class and the teacher can't hear a student.
Device Management
Chromebooks are special. To log in you need a Google Account. That Google Account will be logged into Chrome and thus into all your related apps. Since our school uses Google classrooms and Google email addresses, naturally it makes sense to log in with his school's Google account. Which cannot be managed by a parent. So for example, I can't install an extension in Chrome.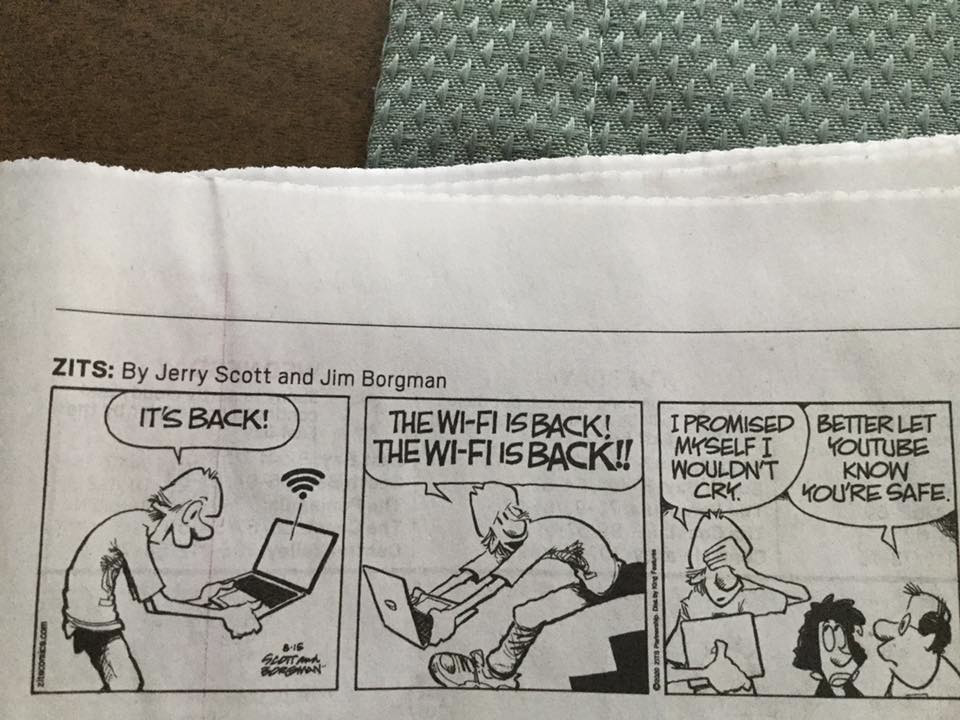 This also means any site blocking has to be done at the router level. So I can prevent him going to YouTube, but I can't prevent him from doing a Google Image search for Zelda memes. This also means that if he does get to Youtube, he can leave comments, but we can't hide his real name. As a parent of a young child - this sucks. We have to monitor our child like a hawk.
I should mention that my child has ADHD. Yes, I can reason with him and explain why he should or shouldn't do certain things, but he is impulsive. Going to Youtube or Google Image search during class is as natural to him as going to Facebook or Twitter is to an office worker.
Zoom
In a lot of ways, Zoom (or Google Meet) has been a godsend. Remote schooling would look a lot different without it, it might even be better. In any case, Zoom Fatigue, privacy and technical issues really make me question our dependence on this.
But let's face it, I, a grown human, can barely do one Zoom call a day, let alone multiple for 5 days a week. It's the reason I won't FaceTime with my mom as often as I used to. My kids do alright with about 30-60 minutes of screen time at a time. Then they get melty. They start to lose sight of their hunger levels, or whether they just need to get up and go for a walk. Our school has asked (understandably so) that the kids have their videos on at all times, but this is stressful for kids who don't want to be in the spotlight all the time.
Because of our huge dependence on Zoom, video and audio issues can totally kill class instruction. The problems can range from bad microphones (here's another $30-100 fix) to network glitches to full-on power outages. In our case it involves our children shrieking about how "Something's wrong." Yelling at their teachers or classmates. Or even screaming to just be heard.
We've even had some awkward setups where we'll have our son log in on his Chromebook, and we'll log in on a second device to put video of his worksheet on the call, so the instructor can tell when he's done with his work. The setup is insane, but it works.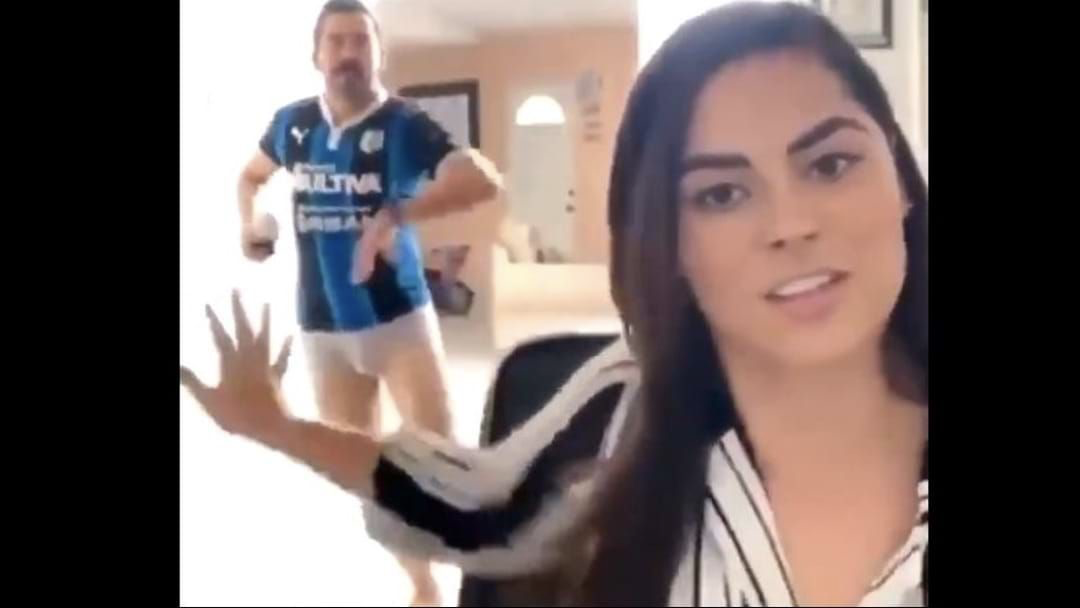 The other part of video meetings is our lack of privacy. What I say and what I do might be picked up on camera of a class of 26 kids if I'm not being diligent. Countless times have I sworn (usually about some technical issue) and at least one of my kids is unmuted. I've seen other "Zoom fails" in school related calls. We've also had our share of meltdowns. Our kids would probably leave their classroom before melting down in front of their peers. Now it's a meltdown and a frantic parent trying to kill the video and audio.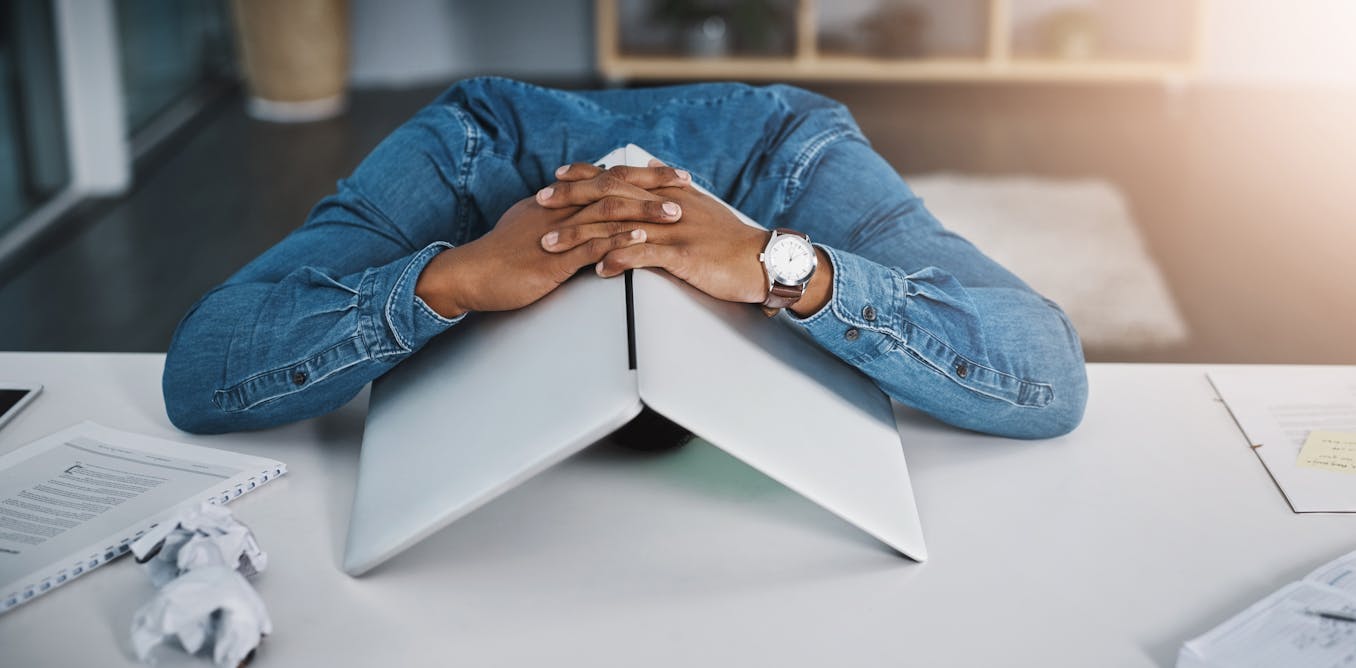 Software will Eat your Sanity
Here's a list of tools I've used in the last few months:
Google Classroom
Seesaw
My phone's camera
Email with attachments. Millions of emails with millions of attachments.
Dream Box
Dragon Box
Khan Academy
Freckle
Epic!
Pro
Zoom
Google Docs and Slides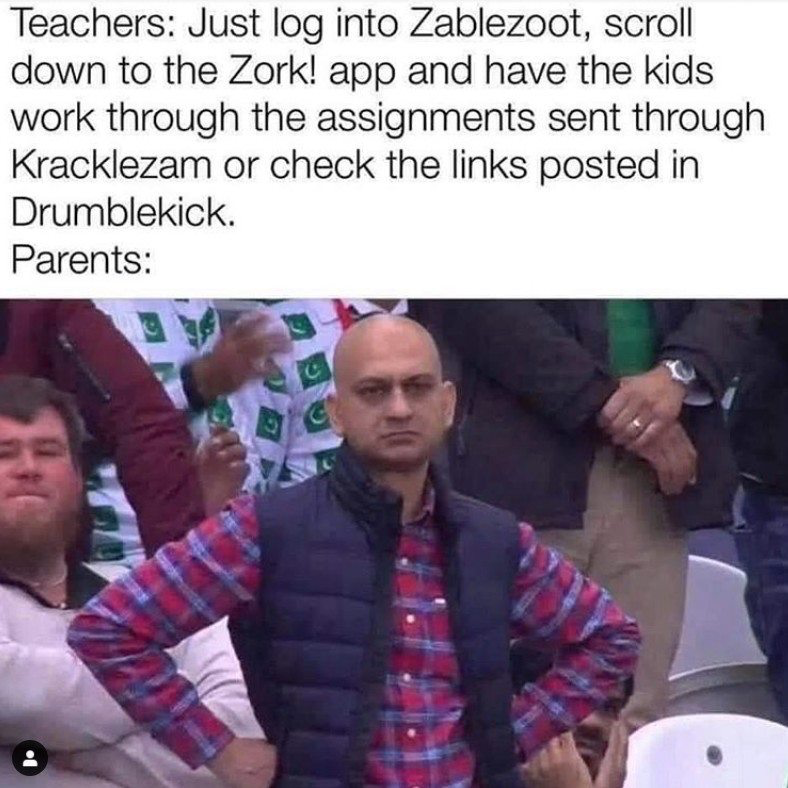 Each tool has a learning curve for both teacher, student and parent. Teachers are great, but not all are great with technology or building information systems that are easy to use. Teachers also design their own curriculums so they have to pull from many resources in order to get their ideal curriculum. The result is we have a myriad of apps, a myriad of choices and an information management nightmare.
Even streamlined we are still using Google Classroom which defaults to a weird timeline view of everything the teacher has assigned to you. Turning in assignments sometimes involves printing things, taking photos and then uploading them. Sometimes those photos from a parents phone need to get emailed to a child's school email in order to get uploaded correctly. Or our phones get overloaded with school apps.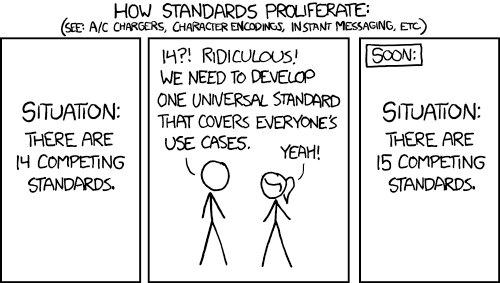 Our teachers did the best they could in such a short amount of time. I would not be surprised if they haven't taken a lot of time for themselves since shelter in place started. When they aren't instructing, they are working. On weekends, we get emails from the teachers. I imagine this summer was just training. So am I surprised that we have this software smorgasbord? No. This is an area where consolidation (companies buying one another) is beneficial. We have too many choices each with strengths and weaknesses and no unification.
Parenting
As parents, we're the executive assistants that serve both the teachers and students. My wife has been managing the kids since school started this month. She's relegated herself to doing almost nothing, because by the time she gets into anything meaningful some issue (usually technology) arises.
When we're not on call for distance learning or proctoring a test we are reading emails. Parsing assignments. Showing our kids emails from the teacher. And generally handling a lot of organizational tasks.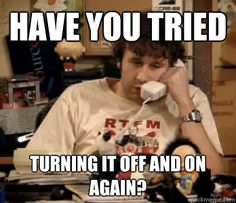 This summer was a time that I realized that distance learning was broken. In the Spring, I got anxious about my kids in class and never could just let stuff fall apart a little. I helped my oldest keep on top of assignments and helped keep my youngest one occupied while the other worked on schoolwork.  This drove me nuts. I hope my wife and I can let go a little bit.
Take-away
While being tech savvy has helped. It's only helping us survive the game of distance learning. The flip side is what goes wrong if we don't do it. What happens if we pull back? Can we back away from our technology just a little bit? I think the answer is yes we can. We miss out on some connections, but a lot of these connections are weak over the internet.
Our kids were learning a lot over the summer. They were mostly self-directed and they didn't seem miserable. Great effort in a dire situation is not a guarantee for success. It's 2020. We're in a pandemic. The costs of technology seem a bit too high for the level of education and connection our kids are getting.